SCHOOL MANAGEMENT SOFTWARE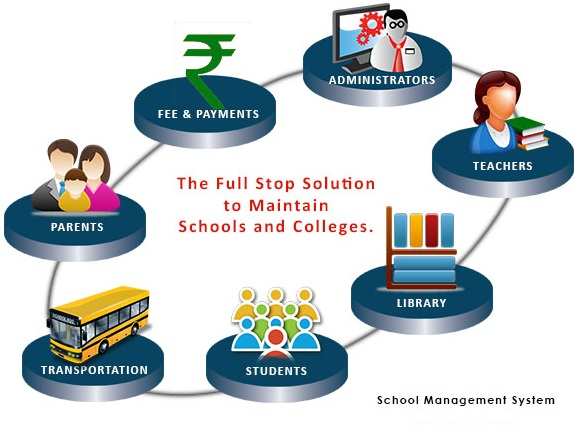 Are you Fed up struggling with a system, which seems to add to your workload, which doesn't work the way your school does? Do you want a scalable computerized system with plenty of time saving features that help to get jobs done accurately and quickly? Do you want professional-looking reports and correspondence? .........Then look at Our School Management System.
Our 'SMS' is a flexible and fully functional SW that can effectively automate administration processes such as Student Enquiry, Admission, staff, fees, Stock, library and their respective reports of schools, colleges, and Institutions. SMS is Very easy to operate and implement. We ensure proper training of users of the systems and post-development supports.


Modules Covered :

• ONLINE SCHOOL FEES PAYMENT
Parents can pay school fees online from the portal. That's class and convenience for the parents and prestige for the schools. Of course parents can do much more, including checking of results, bills, attendance, assignments etc, online, etc. You can disable any of the features you don't want.

• E-EXAMS (CBT)
There's a fully dynamic assignment bank. Teachers issue assignments from the portal, children and parents check and do the assignment, and even submit back through the portal.

• COLOURFUL DASHBOARD:
Parents, teachers, admins, and every user have personalized login details and access to their own dashboard to see everything, check everything.

• ASSIGNMENT BANK:
There's a fully dynamic assignment bank. Teachers issue assignments from the portal, children and parents check and do the assignment, and even submit back through the portal

• E-LEARNING AND E-LIBRARY

• FULL ACCOUNTING PACKAGE

• ANDROID AND IOS MOBILE APP VERSION



ALL FEATURES – ALL ARE UNIQUELY DIFFERENT:

1. Admissions
2. Clean Interactive Dashboard
3. Graphical Charts
4. Students Portal
5. Teachers Portal
6. Parents Portal
7. Unlimited User Groups
8. Complete User Management
9. Exams Management
10. Online Exams – CBT (Computer Based Testing)
10. Attendance
11. Time – Table
12. Dynamic Grading System
13. Exams Management
14. Assignment
15. Accounts
16. Auto Invoicing/Billing/Receipts
17. Online Payments
18. Emails
19. Bulk SMS
20. Library Management
21. E-Library
22. E-Learning
23. Transport Management
24. Inventory Management
25. Assets Management
26. Media Sharing
27. Internal Messaging App(Social Media)
28. Notice Management
29. 14 Different Languages
30. Visitor Management
31. Complaints Management
32. Salary Template System
33. Income & Expenditure
34. Over 100 Different Reports
35. Certificate Generator
36. ANDROID MOBILE APP
37. 24/7 SUPPORT