Online Restaurant Food Order Management System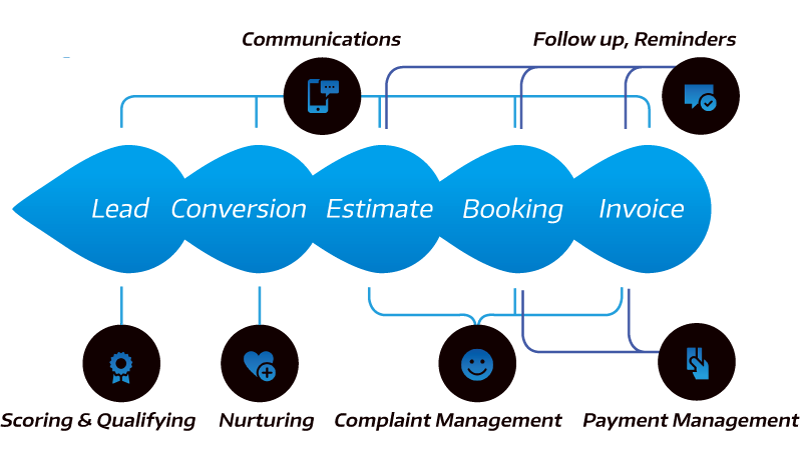 Whether looking to manage new leads for business generation, or perhaps manage enquiries regarding departmental services, the Enquiry Management system is a great tool to log the initial enquiry and track it through to completion. An Enquiry Management system offers a solid foundation from which one can easily manage business generation.

Enquiries begin with initial contact and information recording. One can Gain quick and easy access to all enquiries and relevant information. Any enquiries received can be allocated to teams or individuals for follow-ups. The progression of each enquiry is monitored and tracked via Follow Up history of actions and interactions against an enquiry. Once an enquiry has reached its pinnacle point, further progression can be processed through other modules like production of Work order, Invoice generation against work order payments.




Modules Covered
• User management
Create different users and assign them permissions to operate various modules of the software.

• Employees Management
Employee registration

• Data Management
Data collection with initial contact and information collected through enquiries from various sources.

• Leads assigning
Any enquiries received can be allocated to Employees in sales department for follow-ups

• Employee panel
Employees can see the list of leads assigned to them and can record history of each follow ups taken against particular enquiry. On conversion of any clent employee can generate Work order for the services sold to the client.

• Invoice Management
Invoice Generation for the payments against work order. Complete accountancy maintained by keeping the record of due payments. Invoice can be messaged/email or print.

• Expense /Income
Maintain daily expense / Income records.

All the above modules come with their respective detailed reports.

Salient Features of EMS

• Efficiently Manage Enquiries Of Any Type
• Allocated enquiries to teams or individuals for follow-ups.
• Track Progression From Initiation To Completion
• Integrates Seamlessly With Other Modules
• Report Upon Enquiry Source And Other Fields
• Retain Communication Details
• Schedule Follow Up
• Extends To Quotation System For Simplicity
• Search And Retrieve Enquiry Details Instantly
• Record Work Order Details
• Invoice generation and account management for payments against Work orders.