HOSPITAL MANAGEMENT SOFTWARE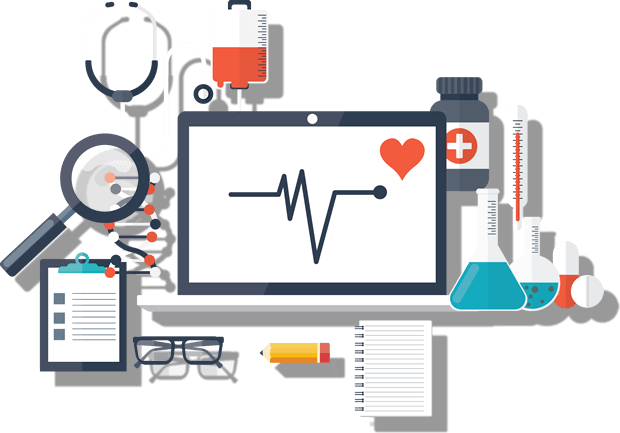 As long as each stage implementation needs to be accurate and explicit, the clinic management system provides certain automation of many vital daily processes. The hospital system software covers the services that unify and simplify the work of healthcare professionals as well as their interactions with patients.
There is always the wide choice of features that can be included in the system. Moreover, the most important thing they are created to streamline various procedures that meet the needs of all the users. The hospital management system feature list is concentrated on providing the smooth experience of patients, staff and hospital authorities.


Their number might differ depending on the clinic needs, however, it usually includes some basic hospital information system modules.

• Patient management
It is used to control patient flow. It can be used to register them, get the data of the patients' health condition, view the treatment and check the medical history and reports.

• Facility management
The facility management module is responsible for tracking and maintaining the room availability, the occupancy status as well as various kinds of administrative documentation.

• Inventory management
Inventory management module controls the amount of clinic inventory. The entire supply chain is automated for the convenience of the staff that can concentrate on the patients' need firstly.

• Staff Management
Staff management module provides the human resources administration. It updates the job description of employees, updates the hospital structure, tracks the recruiting records.

• Accounting
Accounting module organizes the financial affairs of both customers and the medical institution. It stores and presents all the patient payment details, hospital financial records on expenses and overall profit.

• Insurance services integration
Insurance module can record patients' insurance details. It includes the policy number, the insurance company, information about their policies.

• Medicine management
Medicine management module contains the list of drugs that usually used for the specific treatment. It keeps records of every patient' drugs used during their treatment.

• Laboratory and tests management
Lab management module shows the test results of the particular patient. The lab data can be viewed by the staff and generated for the patients' reports. It is usually integrated with other hospital information system modules for the better overall functionality of the system.

• Reporting
Report management part stores the already processed detailed information. This module helps management collect, analyze and view the performance data in a comprehensive format. The business intelligence subsystem helps define problematic aspects and successfully eliminate them to keep the business profitability as well the high customer satisfaction level.

• Helpdesk & support
Helpdesk support module specializes in handling different issues, problems, and requests. It ensures that the operations are maintained properly, the data is valid and reported in accordance.